What are dental implants?
Traditional dental implants are small posts or screws designed to replace a lost tooth root, which is an essential part of a healthy, functioning smile. Dental implants are typically made from titanium or ceramic, depending on your individual needs, preferences, and unique body chemistry. Dental implants are the gold standard for replacing missing teeth and offer a more secure, more life-like alternative to traditional bridges and dentures.
Traditionally, dental implants are surgically inserted into the gums and jawbone using precision-guided technology, and the skilled hands of a certified implant provider like Dr. DeFelice. Once placed, the jawbone sees the implant as a new tooth root and begins to fuse to the implant just like it would your natural tooth root. Dental implants become fused with the jawbone, effectively becoming a fully integrated, fully functional artificial tooth root.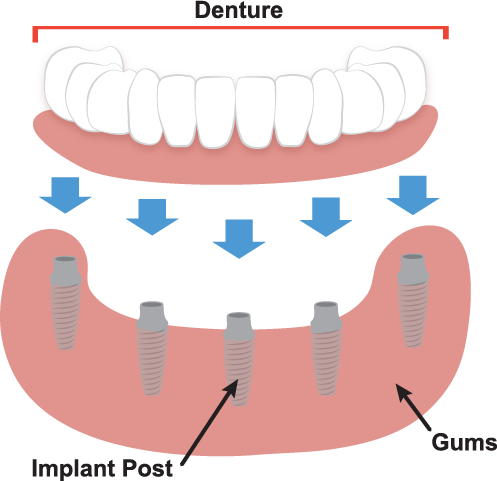 Once healed, dental implants serve as secure anchors for replacing missing teeth. Dental implants can replace a single tooth with a crown, several teeth with a bridge, or a full arch with implant supported dentures. Dental implants give patients freedom from removable, ill-fitting bridges and dentures.
Imagine being able to enjoy your favorite foods without worry, and to speak and smile with confidence again! No more messy denture paste or removing teeth for cleaning. Dental implants look, feel and function just like natural teeth, and can be maintained just the same. With proper maintenance, dental implants are a permanent solution that can last a lifetime.
What are my options?
At DeFelice Dentistry, we are a holistic dental practice in Spokane, WA. This means we carefully consider each individual's unique needs and body chemistry when selecting materials and treatment options. We have several options available for your dental implant needs.
OsteoReady® Implants
OsteoReady® is a practical implant solutions company that provides continuing education and supplies for minimally invasive dental implants. OsteoReady® has helped transform implant dentistry from technical and risky to routine and predictable. With OsteoReady® implants, we can provide a less invasive procedure with fewer appointments and a more comfortable recovery. We offer several OsteoReady® implant options to fit your needs.
Zimmer Biomet Dental Implants
Zimmer Biomet Dental brings 62 years of combined experience in the dental implant industry to help us achieve exceptional outcomes for our patients. Zimmer Biomet Dental is leading the charge in implant dentistry with a team of engineers, scientists, designers, and clinicians to provide innovative solutions and technologically superior dental implant systems. Zimmer Biomet Dental implants are created with superior craftsmanship and quality to provide predictable clinical results.
Ceramic Dental Implants
Ceramic dental implants are made from zirconia that is one of the strongest naturally-occurring materials available. Ceramic implants provide the same longevity and strength as titanium, without the toxic side effects. Ceramic implants have a 98% survival rate and are certified by the FDA. Additional benefits include better prevention of plaque buildup, which reduces your risk of gum disease and infection, and improved aesthetics. Ceramic implants are white to match the color of your natural teeth, so you won't have to worry about that dark line around the gumline or being able to see the implant through the gums in the front teeth. If you're interested in dental implants, we would love to discuss your options with you.